Educational service
Mission
"The primary mission of the Horta Museum's educational service is to introduce young people to Victor Horta's work and to open them up to the concepts of heritage preservation and transmission. The play-based, proactive tours, accompanied by creative workshops, seek to awaken children and adolescents' sense of beauty, while stimulating their creativity. Our inclusive projects for vulnerable audiences echo the philosophical and social vision of Victor Horta who, in the dehumanized industrial context of his day, placed nature and artisans at the centre of his creative work, deeply convinced that Art has the power to uplift us and enlighten our daily lives."
Thierry Mondelaers
Visitors Manager
We are always looking to widen our educational scope and welcome more schools and associations to developp new projects. Please email Thierry Mondelaers directly to discuss further: info@hortamuseum.be
Educational opportunities include:
PUBLIC SCHOOLS
NURSERY SCHOOLS (2nd and 3rd years)
Hidden nature
We take a tour, on the theme of nature. Children are invited to discover the animals and plants hidden in the decoration of the house. They can touch the materials that the architect used, grind coffee in the kitchen and discover the smells of a house from the past. The visit is extended by a specially adapted creative workshop.
Price: 5 euros per child, 2.50 euros for schools in Saint-Gilles
PRIMARY SCHOOLS
Horta Mondays
Every Monday morning, the museum welcomes primary schools for a pay-based, pro-active and immersive guided tour of the house and of the days of Victor Horta. The visit is followed by a creative workshop exploring a technique encountered in the house (wall painting, stained glass, sculpture etc.)
Price: 5 euros per child, 2.50 euros for schools in Saint-Gilles
Victor in class
During the COVID period, our educational service can come to your school to present a guided activity in the classroom. Presentation of the museum and Art Nouveau, followed by a creative workshop: Duration: 2 hours
Price: 70 euros (creative material included), 50 euros for schools in Saint-Gilles 
SECONDARY SCHOOLS
Thematic guided tours
restoration work (technical)
Art Nouveau and its time (historical)
Ornamental and architectural language (artistic) 
CULTURE HAS CLASS
Educational partnership project between the museum, an artist and a school (primary or secondary). Projects initiated and supported by COCOF.
---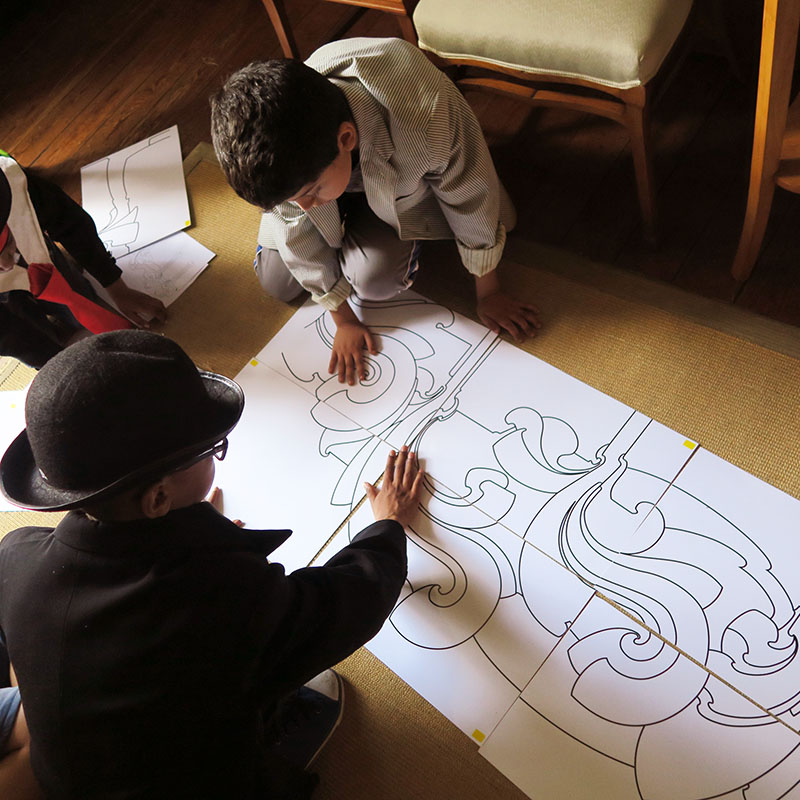 EXTRA CURRICULAR
HORTA WEDNESDAYS:
On Wednesday afternoons, during school periods, we offer a visit plus workshop to members of registered associations under the ATL (Accueil temps libre) scheme for providing out-of-school children's activities.
Groups limited to 15 people including children and accompanying adults.
SCHOOL HOLIDAY WORKSHOPS
Morning tours and workshops during the autumn, carnival and spring holidays half-term holidays. This module is intended for associations and families (outside the COVID period)
Groups limited to 15 people, including children and accompanying adults.
Price: associations: 5 euros per child, free for supervisors (2 per group). Half price for inhabitants of Saint-Gilles
Family: 5 euros per child, 10 euros for adults. Half price for inhabitants of Saint-Gilles
SUMMER COURSE
Each year the Horta museum organizes a summer course in partnership with the Maison Autrique, in each case involving a social association in the development and animation of the project. This formula allows us to offer a summer course at very low prices to children from socially disadvantaged backgrounds.
---
COMMUNITY
INCLUSIVE PROJECTS
In recent years, the museum has been confronted with the emergence of new visitor groups from the social sector (benefits claimants, newcomers to the country, adults in literacy classes, etc.). To provide the best possible welcome, we set up appropriate tools (lexical visits) and offer inclusive projects in partnership with the support associations (summer courses, workshops led by the group, inclusion in other museum activities)
PRIMOTHEKA
Development of a play-based lexical project on the theme of the Art Nouveau house, intended for audiences learning French. This module, designed in partnership with the Maison Autrique, is supported by Urban Brussels and will be operational in November 2021.
VISUALLY-IMPAIRED AND BLIND VISITORS
The museum produced a 'tactile suitcase' for a presentation of the museum in the Braille League's library in Saint-Gilles. The suitcase then travelled to the League's various centres in Wallonia.
It is available on request.
Under development
Tactile, sensory and musical visit in the music room of Victor Horta's house.
---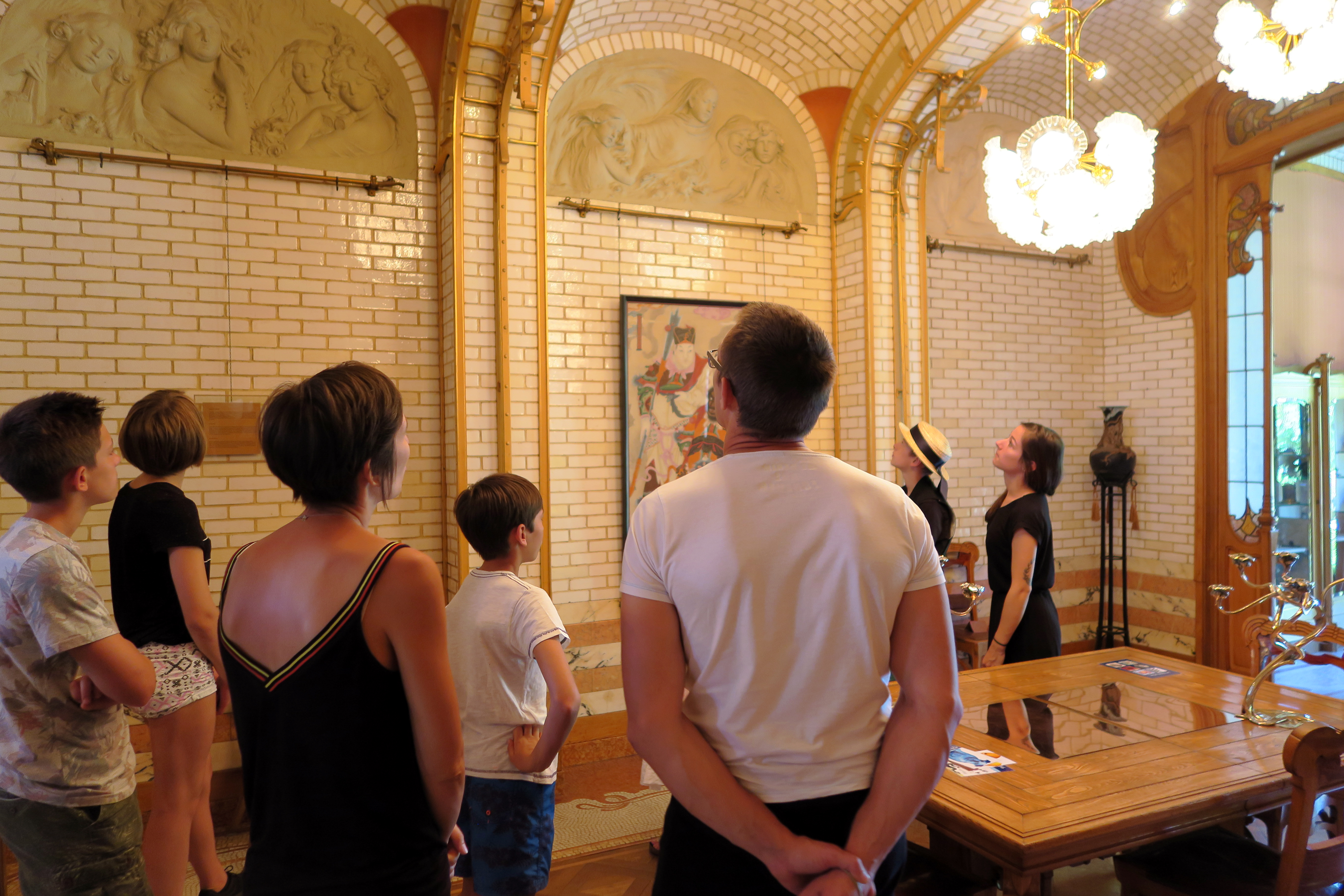 FAMILY TOUR
Self-guided visit
Explore the Horta museum with your family using to Simone's notebooks: The Horta Museum, a family visit. This richly illustrated visitor's guide accompanies young and old in the world of Victor Horta, enabling them to discover the architect's house in a play-based and interactive way, with the help of simple texts, punctuated by small games. A copy is offered free of charge to families with children.
---
Contact
If you'd like to discuss any of the above for your school or association, please email Thierry Mondelaers directly to discuss further: info@hortamuseum.be
We'd be happy to hear from you.